the RIDE will not operate on Nov. 25 for Thanksgiving
Thanksgiving is Thursday, Nov. 25, this year. That means the RIDE will not operate on Thanksgiving so our employees can enjoy the holiday with their families. the RIDE will resume service on Friday, Nov. 26.

Katlian Street road closure forces rerouting of Red Line
The recent collapse of a historic clan house on Katlian Street has resulted in part of Katlian Street being closed to vehicles and foot traffic while they try to stabilize the house so it doesn't slide into the roadway. Because of the road closure, the RIDE has had to reroute the Red Line that normally travels Katlian Street. For now, the drivers are making no stops on Katlian Street, unless someone requests the Sheet'ká Kwáan Naa Kahídi, and instead are driving up Marine Street, which has no marked stops, to Halibut Point Road to reconnect with its normal route. The drivers are not backtracking to go to the LFS Marine Supplies or Center for Community stops on the other end of Katlian. This rerouting of the Red Line will last as long as Katlian Street is closed. For more information on the collapsed clan house, click this link to read a story from KCAW-Raven Radio about it (KCAW story is the source of the photo), https://www.kcaw.org/2021/09/07/daginaa-hit-a-dying-building-tells-a-complicated-story-of-clan-culture-and-history/

the RIDE is running, but we are monitoring COVID-19 situation
We've had a lot of people ask if the RIDE is still running. The following comment is from Gerry Hope of Sitka's the RIDE:
"the RIDE is operating at 75 percent capacity. We continue to monitor COVID-19 in Sitka. If conditions warrant, the RIDE may decrease seated passenger capacity to 50 percent, or if necessary the RIDE will consider suspending operations.
"Since July of 2020, the RIDE put in place the requirement to wear a face mask prior to boarding the buses and to maintain wearing a mask while onboard the buses. We also offer a free mask to those customers who do not have one. In addition, the RIDE placed a protective barrier around the drivers, and each bus that was in operation is sprayed each night after operation to protect the passengers and drivers. Finally, Sitka has more than 70 percent of the population that has been vaccinated with at least one dose and more than 60 percent are fully vaccinated. Last year, there were no vaccines available, just to mention the contrast from last year to this year."

the RIDE increases bus capacity to 75 percent
Just a reminder, we are still in limited service right now due to COVID-19. This includes only running two of our three lines, limiting the number of passengers on each bus, requiring masks, etc. For the time being, this is our attached schedule (see schedule images below, scroll down).
Also, as of June 2, 2021, we now are able to carry 75 percent of our bus capacity (up from 50 percent). But if we reach our capacity we still won't be able to add new passengers until someone gets off the bus. That means our smaller buses will be able to carry 11 passengers now (instead of eight) and our larger buses can carry 17 (instead of 12). When we do reach capacity, it may result in stops being skipped. Our goal is to protect the health and safety of our passengers, and we hope we can eventually relax some of these restrictions in the near future.

Federal government extends face mask mandate to January 2022
The federal government has extended its face mask on all public transportation through Jan. 18, 2022. This face mask mandate applies to all public transportation, including buses, airplanes, ferries, trains, etc. The RIDE will continue to require face masks of all drivers and passengers for as long as the federal mandate is in place. For more information about the face mask mandate, click this link.

the RIDE is hiring on-call transit drivers
Looking for work and have a commercial driving license with passenger endorsement? The RIDE is hiring on-call transit drivers. Hours and pay vary, but the RIDE operates from 6:30 a.m. to 7:30 p.m. from Monday through Friday. The job description and more information can be found on the Sitka Tribe of Alaska website (click the job title to open job description), https://www.sitkatribe.org/pages/job-offers, or you can call the RIDE at 747-7103 for more details.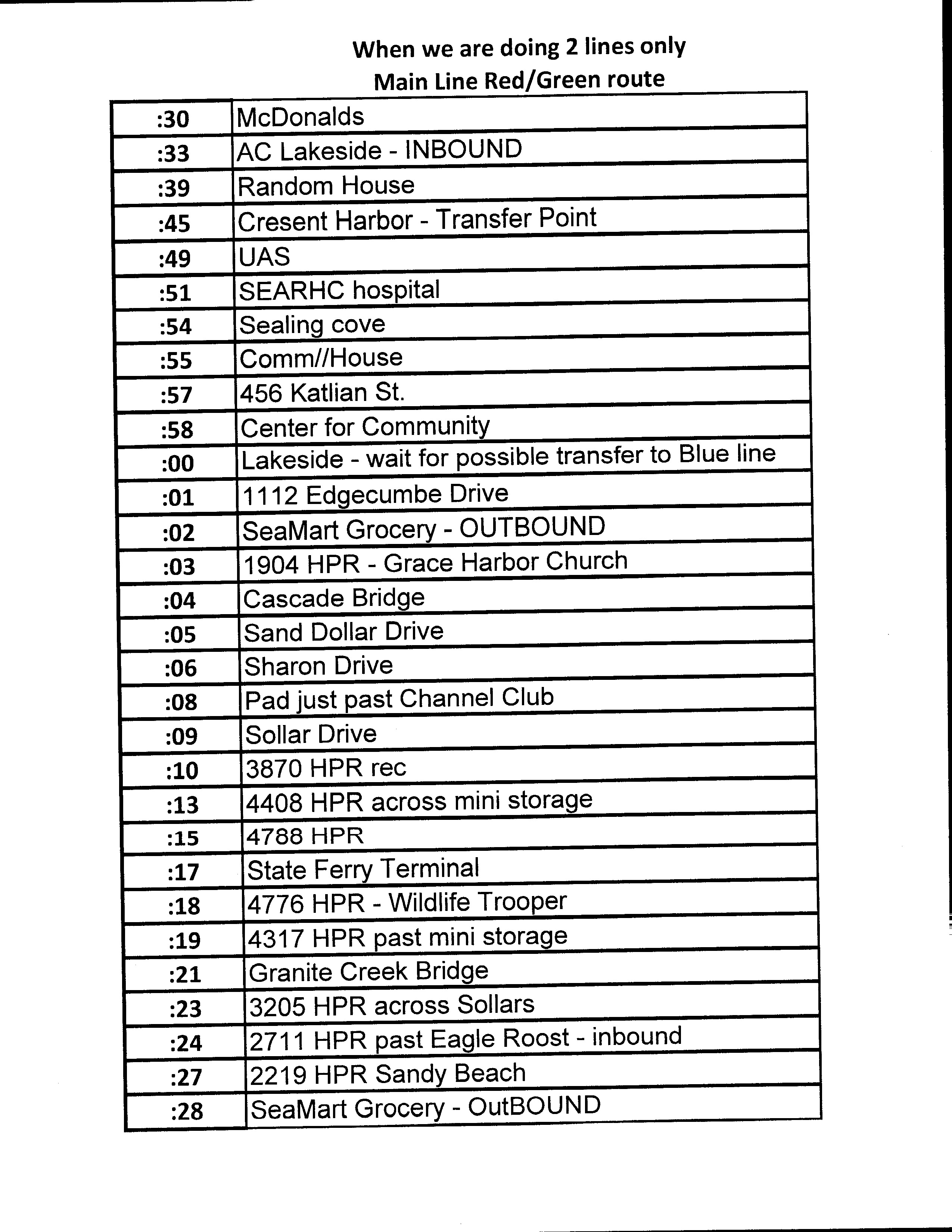 the RIDE is down to two lines right now
Due to maintenance issues, the RIDE is on limited, two-line service. At this time, the Green Line is being absorbed into the Red and Blue line schedules using the time posted here (note, the Blue Line only is going as far as Whale Park right now). We may be in limited, two-line service for a week or two, but will go back to normal three-line service as soon as we can.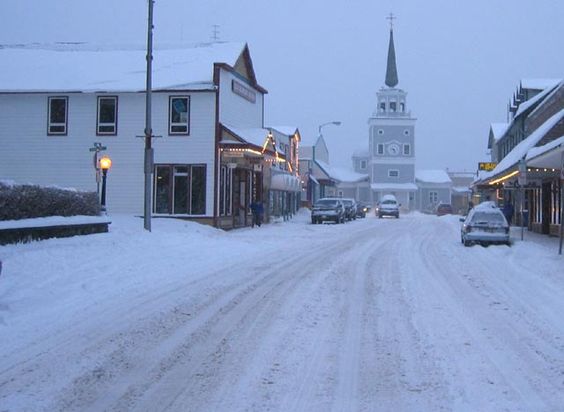 Please check our Facebook page for route and weather updates
We don't like it, but sometimes a bus breaks down, we get snow, or there is a construction project on one of our routes that impacts our schedule. Please watch our Facebook page for route updates. If there is a weather schedule/route change, it will be announced on our local radio stations before it shows up on Facebook or the website, or you can call the RIDE at 747-7103 for more details.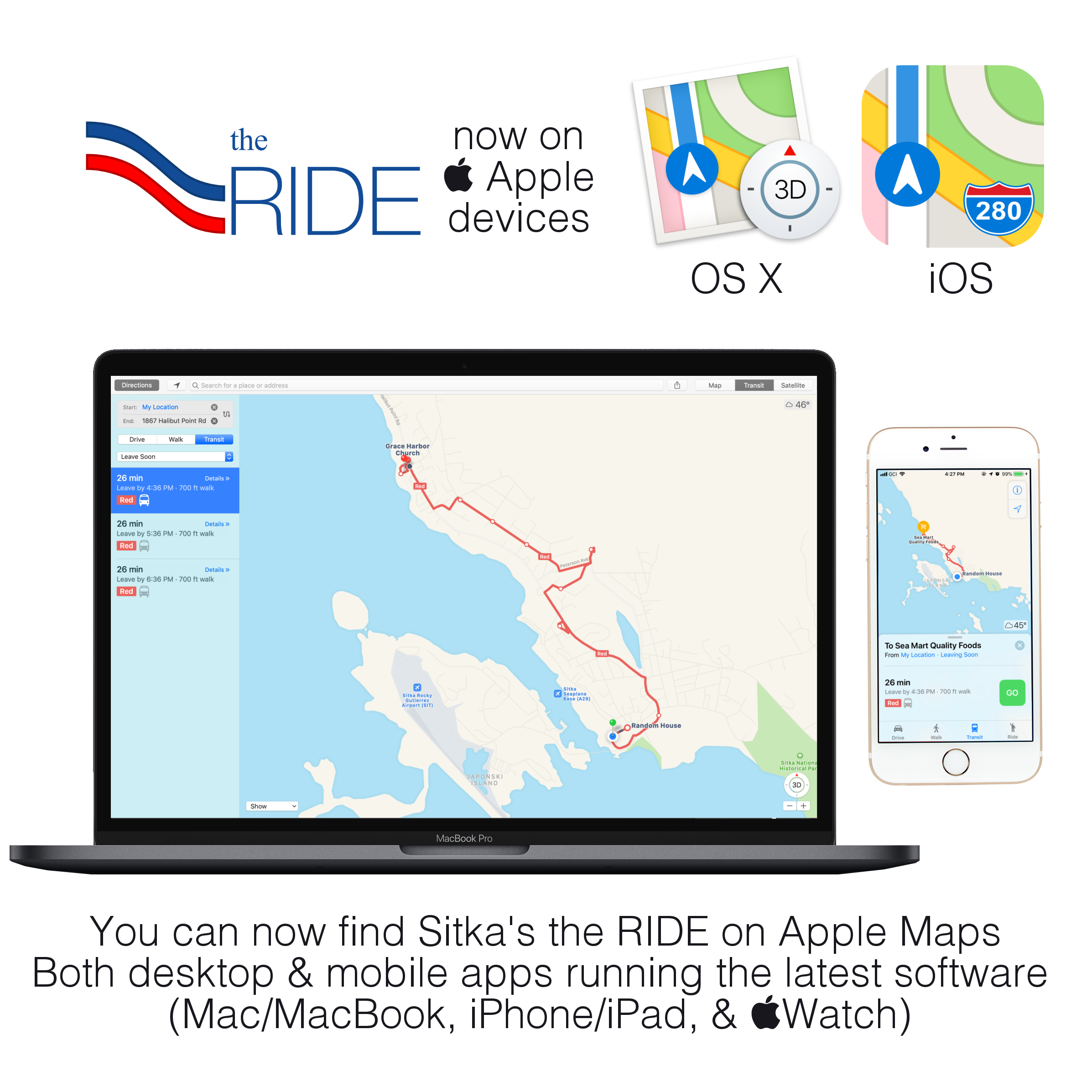 Find the RIDE on Apple Maps
Did you know you can now find the RIDE on Apple Maps? You can find schedules and route maps for the RIDE on Apple Maps. We're helping keep you connected to public transit in Sitka.

Please keep bus loading zones and bus stops clear
In recent weeks there have been several drivers parking in the bus loading zone in the Crescent Harbor parking lot or at marked bus stops downtown. Please don't do this, especially since the safety of our riders depends on us pulling the buses into these marked spots so riders can safely board or get off the buses. The Sitka Police Department does ticket vehicles parked in bus-loading zones/bus stops, as you can see in the photos from Crescent Harbor. There were at least seven vehicles ticketed the morning of Aug. 16, 2018.
At Crescent Harbor, the entire row of parking spaces next to Harbor Drive is designated as a bus loading zone from 6:30 a.m. to 7:30 p.m. on week days. Even one car next to the bathrooms can force our buses out into the driving lane. The only time you are allowed to park there is on weekends and holidays.
We also have several people parking in marked bus stops in front of the Sheet'ká Kwáan Naa Kahídi on Katlian Street or the framing shop on Lincoln Street. These spots are for buses only (not charter fishing vans). We need to get our bus completely out of the driving lane to pick up passengers, and it's unsafe for our drivers to have to unload riders from the middle of the street.
Your help keeping these bus stops clear is greatly appreciated.

Find the RIDE on Google Maps
Want to know how long it takes to get from the ferry terminal to Whale Park with the RIDE? It takes 55 minutes, according to a search on Google Maps, http://goo.gl/nkjvzE. To enter a query, go to https://www.google.com/maps (or use the Google Maps app on your cellphone). In the upper left corner of the screen will be a blue diamond that says "Directions" when you click on it. After you click on it, look for the bus icon (third from the left, between the car and the walker) and click it. Then type where you are and where you need to go in the two lines beneath it. Easy peasy