the RIDE suspends service during coronavirus outbreak
Due to the City and Borough of Sitka's order on Sunday, March 22, calling on residents to Shelter in Place, the RIDE is suspending service until further notice. This is in recognition of the city's notice and and abundance of care and caution. Service will return after the city's order is lifted. For any questions, please call the RIDE at 747-7103.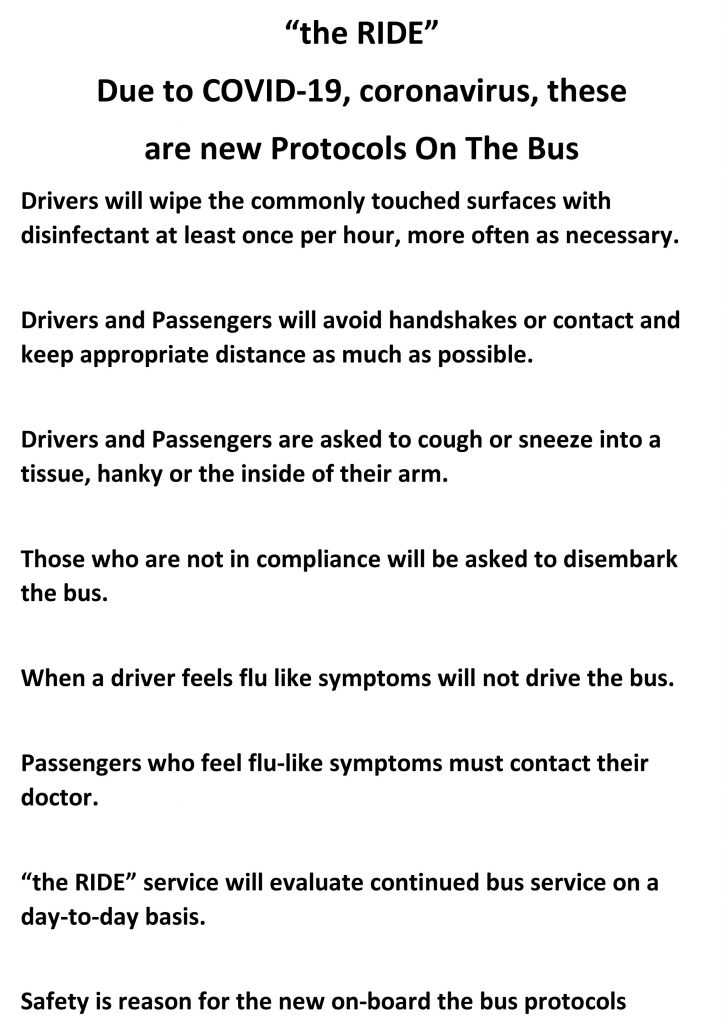 the RIDE adopts new protocols for coronavirus
Due to the COVID-19 coronavirus pandemic, the RIDE is adopting the following protocols to try and reduce the spread of the disease. We are watching the situation closely, but for now we are operating (people still need to get to work or medical appointments).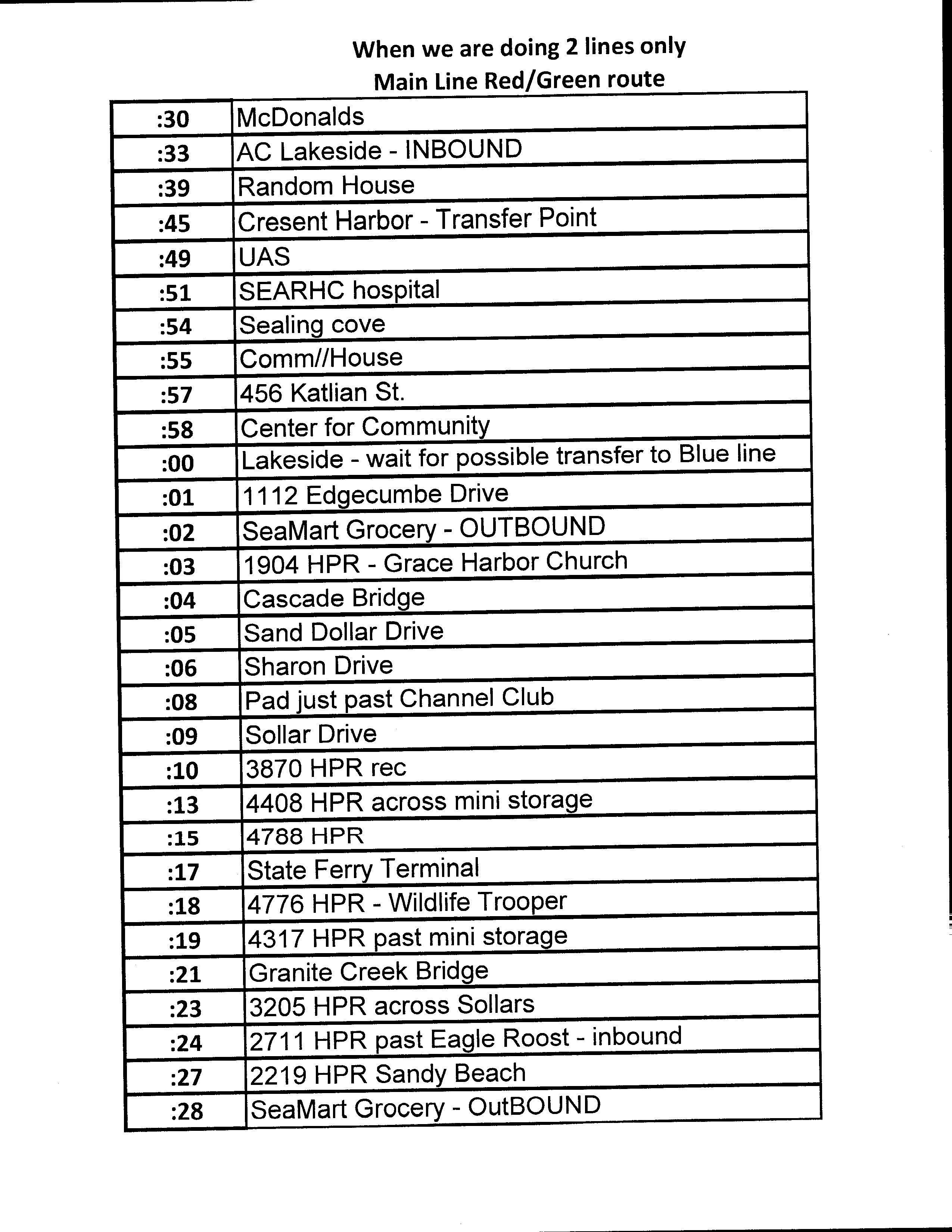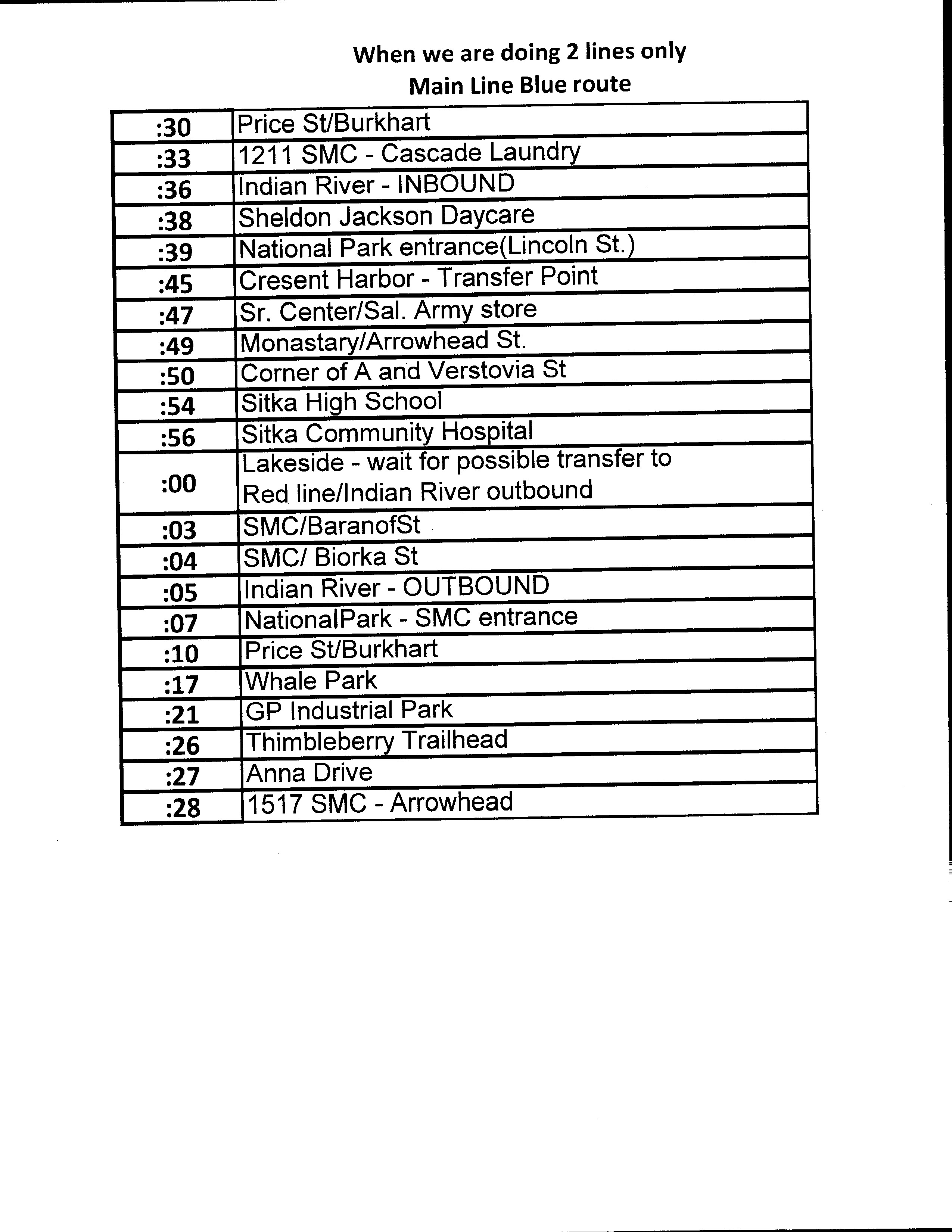 Maintenance issues are causing schedule changes
Due to recent maintenance and weather issues, the RIDE has had to drop from our usual three routes down to two lines (or even suspend service all together) for periods of time this winter. Sometimes, these changes happen for short periods, with limited notice. Be aware there may be times when we're running two lines without being able to publicize it. When we are on limited service with two lines, the Green Line schedule is rolled into the Red and Blue lines using the attached schedules. We hope this is a short-term problem and we can be at our usual three lines of service on a more consistent basis soon. We have two new buses on order, but they have been delayed in shipping so aren't in Sitka yet. If you need to check on the status of whether we're on regular or limited service, please check out Facebook page, https://www.facebook.com/RideSitka, or listen for announcements on the radio. You also can call the Sitka Tribe of Alaska Transit Department at 747-7103.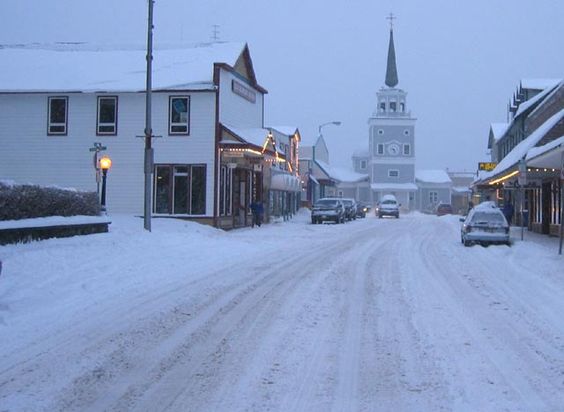 Please check our Facebook page for route and weather updates
We don't like it, but sometimes a bus breaks down, we get snow, or there is a construction project on one of our routes that impacts our schedule. Please watch our
Facebook page
for route updates. If there is a weather schedule/route change, it will be announced on our local radio stations before it shows up on Facebook or the website, or you can call the RIDE at 747-7103 for more details.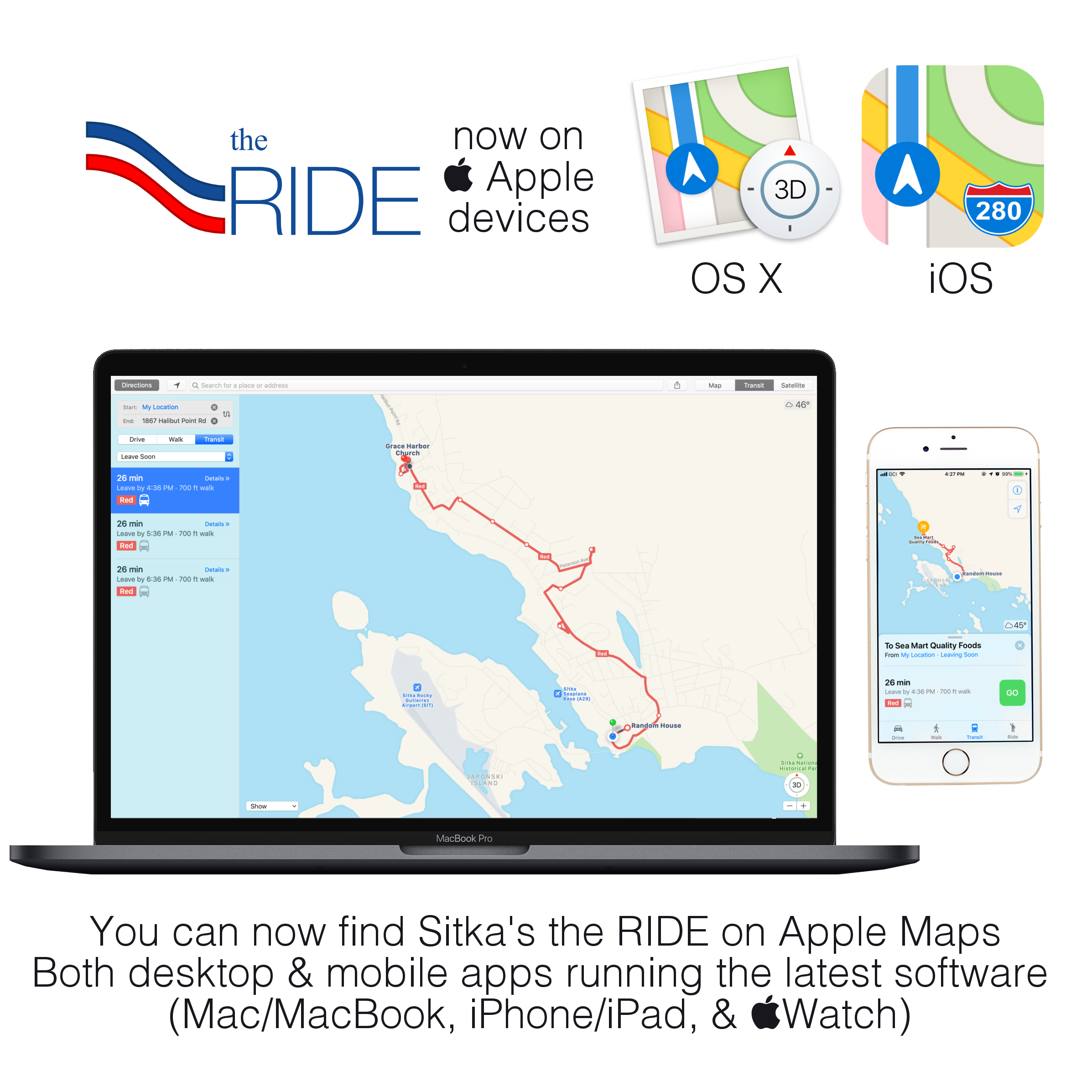 Find the RIDE on Apple Maps
Did you know you can now find the RIDE on Apple Maps? You can find schedules and route maps for the RIDE on Apple Maps. We're helping keep you connected to public transit in Sitka.

Please keep bus loading zones and bus stops clear
In recent weeks there have been several drivers parking in the bus loading zone in the Crescent Harbor parking lot or at marked bus stops downtown. Please don't do this, especially since the safety of our riders depends on us pulling the buses into these marked spots so riders can safely board or get off the buses. The Sitka Police Department does ticket vehicles parked in bus-loading zones/bus stops, as you can see in the pho
tos from Crescent Harbor. There were at least seven vehicles ticketed the morning of Aug. 16, 2018.
At Crescent Harbor, the entire row of parking spaces next to Harbor Drive is designated as a bus loading zone from 6:30 a.m. to 7:30 p.m. on week days. Even one car next to the bathrooms can force our buses out into the driving lane. The only time you are allowed to park there is on weekends and holidays. We also have several people parking in marked bus stops in front of the Sheet'ká Kwáan Naa Kahídi on Katlian Street or the framing shop on Lincoln Street. These spots are for buses only (not charter fishing vans). We need to get our bus completely out of the driving lane to pick up passengers, and it's unsafe for our drivers to have to unload riders from the middle of the street. Your help keeping these bus stops clear is greatly appreciated.

Find the RIDE on Google Maps
Want to know how long it takes to get from the ferry terminal to Whale Park with the RIDE? It takes 55 minutes, according to a search on Google Maps, 
http://goo.gl/nkjvzE
. To enter a query, go to 
https://www.google.com/maps
 (or use the Google Maps app on your cellphone). In the upper left corner of the screen will be a blue diamond that says "Directions" when you click on it. After you click on it, look for the bus icon (third from the left, between the car and the walker) and click it. Then type where you are and where you need to go in the two lines beneath it. Easy peasy